By David Skilling *
Inflation – and the inflation debate – is intensifying. Recent inflation figures in the Eurozone, the United States and the United Kingdom, as well as Australia and New Zealand, have exceeded expectations.
Opinions vary considerably on the persistence of this inflationary dynamic. Some central banks (Norway, New Zealand) have already raised their rates and the bond markets are integrating the rate hikes from the central banks of large economies. But the ECB, the Fed and the Bank of England are still not convinced.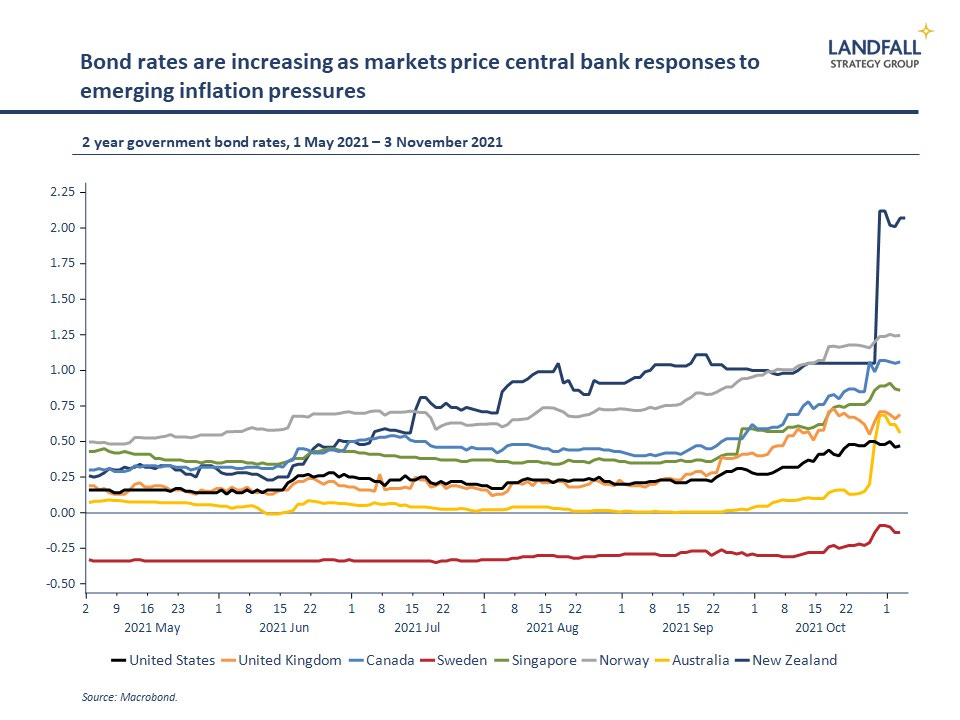 Acceleration from 0 to 100
There are good arguments on both sides of the inflation debate. Resolving the issue is complicated by the unprecedented nature of the Covid shock and the speed of the recovery. The global economy is going from a screeching halt in 2020 to a very solid recovery process.
It is therefore not surprising that pressures and constraints are emerging in the global economy, from supply chains to energy prices and skills shortages. As well as inflation.
But recent data should not be over-interpreted as necessarily a resurgence of generalized inflation. Inflation will be higher than expected a few months ago, but these pressures could likely weaken significantly over the next 12 months.
For example, supply chain disruptions, as well as energy and commodity prices, can ease as bottlenecks are removed and consumers shift from purchasing goods. consumption of services; Chinese growth could slow significantly; and fiscal policy will become less stimulating.
However, vigilance on inflation is imperative. This is especially true given that many governments in advanced economies are likely to continue to manage economies under high pressure. Fiscal tightening is likely to be gradual so as not to jeopardize the recovery – and increased government investment spending is likely. And when it comes to monetary policy, my assessment is that there will be economic and political constraints to rising interest rates.
Extend the offer
More importantly, political vigilance on inflation will be required over a longer period of time as the price pressures associated with structural changes in areas ranging from labor markets to globalization and climate change emerge – compounded by a relatively expansionary macroeconomic policy. Policy instruments other than monetary policy will be needed to manage these inflationary pressures over the medium term.
This is important for the economic results. But the policy of higher inflation is also a challenge. Periods of high inflation often lead to political turmoil.
Economic policy should focus on expanding capacity on the supply side and increasing productivity. This must be based on a coherent economic strategy. It is not enough to assert that higher wages and costs will generate productivity without further political action (as suggested by the British Prime Minister).
Consider a few examples where structural changes will require supply side responses to manage price pressures.
First, changes in the nature and location of jobs in the post-Covid economy are creating mismatches between labor supply and demand, resulting in skills shortages and wage pressures across the country. economy (aggravated by constraints on migration). In addition to talking about the "big resignation," technology and new business models are creating new jobs and displacing others quickly and on a massive scale. These pressures will last for some time.
These structural changes in labor markets, accelerated by Covid, could lead to wage and price inflation unless they are accompanied by policies that allow a better match between labor demand and supply – and support labor productivity growth.
Investing in a skills policy, an active labor market policy and a sound migration policy will help alleviate pressures on labor markets. Done right, wages can rise sharply, as productivity improvements offset inflationary effects.
Likewise, investment in capital and technology can push supply back from the economy – and support the transition to the labor market. The rapid and large-scale adoption of technology during Covid – and the expectation of a 'investment windfall'- will contribute to higher productivity growth over time and contain inflationary pressures.
Governments can support investments to improve business productivity and make complementary investments in public infrastructure (from broadband broadband to research funding).
Second, the intensity of globalization, which has been a deflationary force in recent decades, is no longer increasing – and the deflationary impulse of large emerging markets like China is weakening / reversing. And there are costs with trade and investment frictions (eg US / China), as well as the pressure for location and strategic autonomy.
Governments (and businesses) should maintain a strong tendency towards openness and build resilience in a disciplined manner to manage the risks of higher cost structures.
Third, there are cost pressures associated with the transition to net zero. Even if the prices of renewable energies are falling sharply, pricing is not yet always competitive with fossil fuels; and the broader transition to a low-emission economy will come at costs (including carbon taxes). This can be seen as a negative supply shock, which may have an inflationary impact.
The transition to a low-emission economy will require substantial investments in new capacity. Over time, renewables are expected to be consistently cheaper and improve productivity. But in the meantime, governments will need to manage the distribution of the costs of this transition across the population and over time, including funding new low-emission infrastructure, technologies and innovations.
Play the long game
This structural dynamic across the global economy will shape the outcome of inflation beyond short-term economic reopening. Governments (and businesses) that act to boost productivity and expand capacity on the supply side are likely to manage inflationary pressures relatively well. The policy response must extend well beyond monetary policy.
Small advanced economies, which favor supply-side rather than demand-side policies to generate productivity growth, are worth observing in this environment. From Singapore to the Nordic countries, several have developed relevant measures on the supply side as part of their post-Covid economic strategies.
Many governments in advanced economies have effectively used macroeconomic policy to emerge from the Covid crisis. But a new political direction is now required: structural changes require a response from the supply side. Without it, expect higher core inflation, weaker economic performance, and greater economic and political turmoil.
---
Graph of the week
As the COP26 meetings kick off in Glasgow this week, it is striking how much per capita emissions vary between advanced economies. This variation in emissions intensity partly explains the variation in the ambition of national targets: Australia and the United States have the worst records, while many European countries are behaving relatively well. The encouraging news is that per capita emissions have steadily declined in advanced economies, but not enough.
---
* David Skilling ((@dskilling) is director of the economic consultancy firm Landfall Strategy Group. This article first appeared here and is used with permission. Skilling recently spoke to interest.co.nz in a Zoom interview .